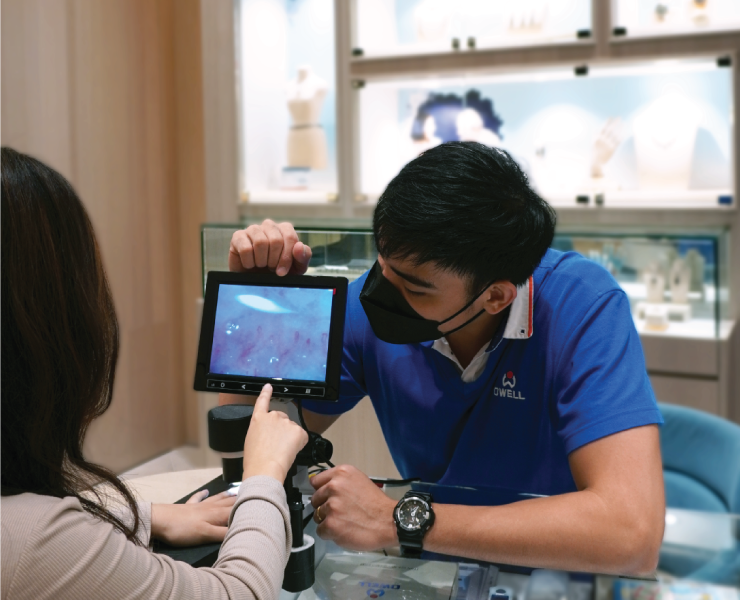 At OWELL, we are always striving to 'Put Health Into Your Hands' through our comprehensive range of portable healthcare products that takes care of every aspect of your body. In order to find out which product suits your needs best, we have developed a unique service – a Complimentary 3-Step Health Check – that we conduct for all our customers.
The Complimentary 3-Step Health Check consists of 3 simple diagnostic checks:
1) Body Oxygen Level & Pulse Rate, 2) Vascular Age and 3) Blood Capillary Shape & Blood Circulation Analysis.
This Complimentary Health Check is quick, simple and non-invasive and will only take 15 minutes to complete.
Step 1: Body Oxygen Level & Pulse Rate
Oxygen is vital to our survival as it keeps our body's main organs functioning. If oxygen supply to our brain is cut off, our brain cells will begin to die within 5 minutes. This could eventually lead to brain death.
In general, someone who suffers from low oxygen supply in the body will experience migraine, insomnia and a weak immune system. Their outlook will be pale and their skin dull, with dark eye rings marking their face. In the long term, a low oxygen supply in our body will increase the chances of cancer cell growth, as cancer cells thrive in low oxygen conditions.
Our body oxygen level can be measured using infrared light and OWELL uses our proprietary Pulse Oximeter to conduct this check.